Men's Ministry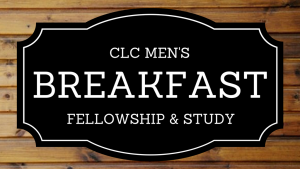 We gather on the first Saturday of each month for prayer, breakfast together and time in the Bible. We are currently being led by Ken Moore in the book of James. Please join us this month. All men are welcome!
First Saturday each month.
8:00am-9:30am
Student Life Room @ CLC
---

This year's retreat is scheduled for Friday night February 8th & Saturday February 9th. We wanted to give you an affordable and exciting retreat and partnering with Hillside EV Free has made this possible. The cost is unbelievably low and we should have well over 100 men in attendance. We also believe Camp Casey is the perfect location; far enough away to feel like a retreat, but not so far that you can't sleep in your own bed.
$40 Event, meals & lodging.
$60 if you bring teens (no limit)
$20 No lodging
The teaching sessions will led by pastors from four of the participating churches
Begins Friday 7:00 & ends Saturday 5:00ish
---
Information